iSpin: A Quality EDC Hand Spinner For Everyone
Can wait and rather get the iSpin: A Quality EDC Hand Spinner For Everyone at a group price? Click here to request for the next hunt, and get notified when it goes live! 
---
Pfft.. All that hype over a cube. Take a stroll down kool street with the iSpin instead!

Outstanding build quality and small signature so you can spin this wherever, whenever.
Variable spoke and O-Ring configurations extends playability options.
3-5 minute spin time.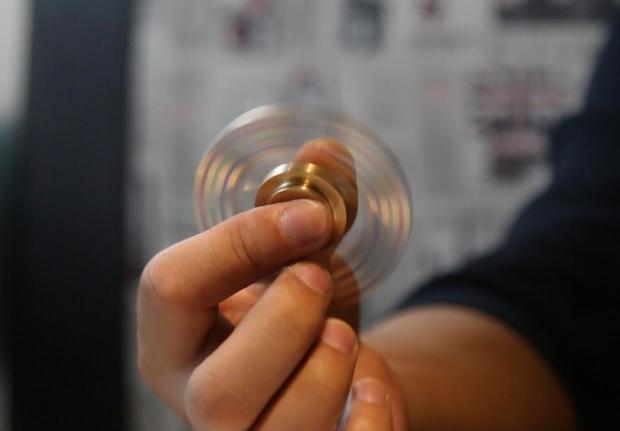 Fidgets Spinner are all the rage right now. They're being 3D printed, machined, glued together, you name it! Most people will not know how much they would enjoy using it until they have one at hand. Not only evidence shows that they can have extremely therapeutic effects, but also they are  extremely fun to play with for most of us. Fidget spinners have been shown to relieve anxiety, increase concentration, and help with social disorders such as ADD and ADHD.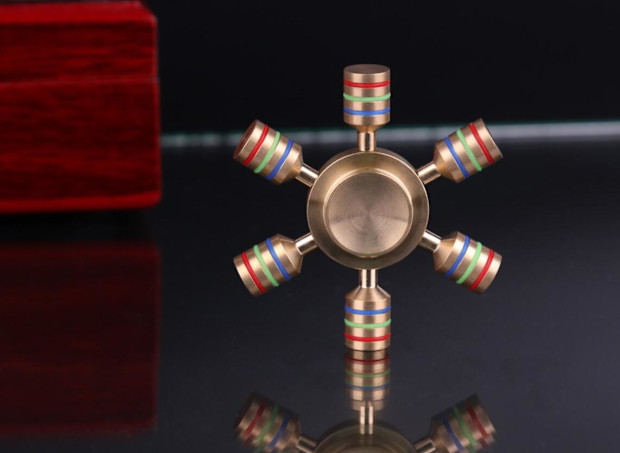 Like 3 months ago, we noticed that friends around us start to play with the hand spinner(or called fidget spinner), and it's getting more popular since then. But after we did a research on it, we found out that most good quality hand spinners in the market are too expensive like 50-200 USD, While these cheap plastic ones are less than 10USD but with very poor quality. So we decide to make a high quality hand spinner that can be affordable by most of us. After 2 months designing, sampling and quality testing, now we are ready for the mass production, but again, we need all your help to bring the cost down for the mass production.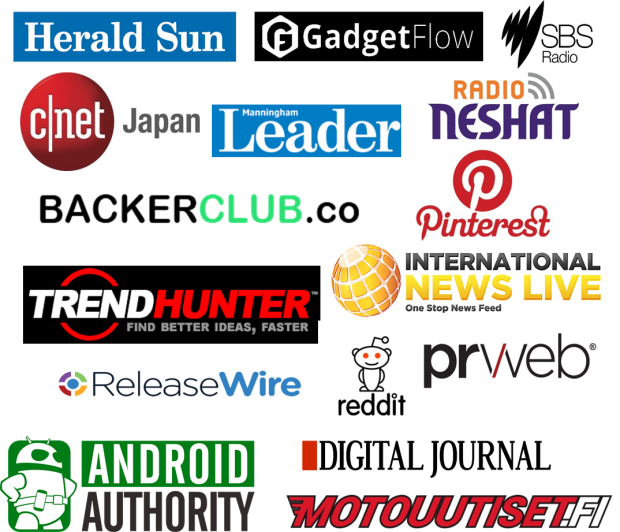 Special thanks to https://www.bestadvisor.com/ help us promote iSpin.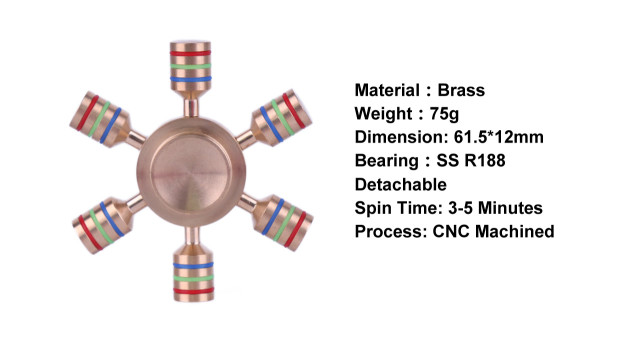 The iSpin spinner is made of brass with CNC precision machines. The dimension is 61.5*12mm and it is 75g in weights. The bearing used inside is stainless steel R188 and the spinning time can be up to 3-5 minutes.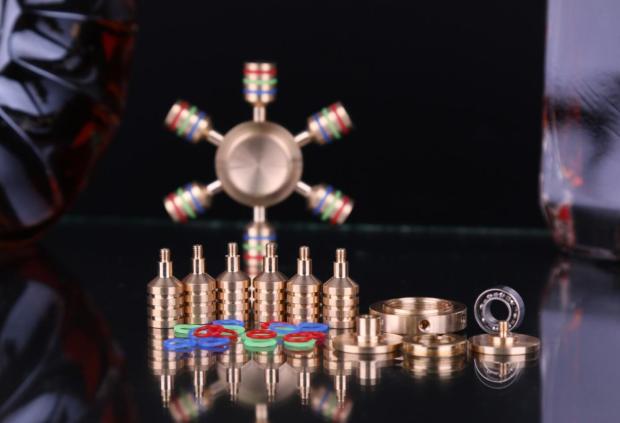 The iSpin hand spinner is made of 18 colorful O rings, 10 CNC machined brass parts and 1 Stainless Steel R188 Bearing. All the single part can be detachable. 
Because every single parts are so well made with high precision CNC machines, the spinner has almost no noise  and well balanced when spinning on your hand.
The 6 heads can be taken off easily on the spinner. So you can have fun with the spinner with 2,3,4 and 6 heads, and it will spin like a beast. You can even play with 1, or 5 heads on it, to experience the unbalance feeling of the spinner.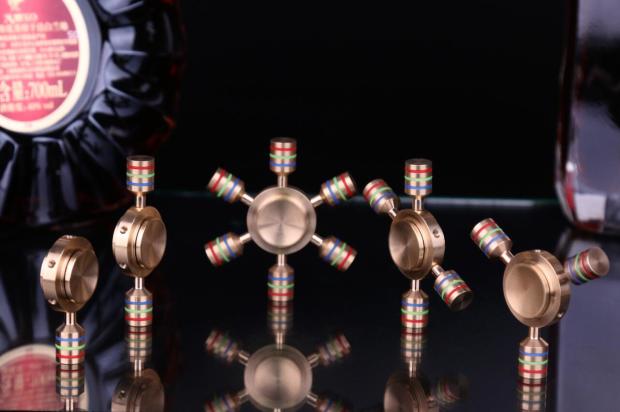 The 18 colorful O rings make the spinner look gorgeous when it spins, feeling like a rainbow at your hand.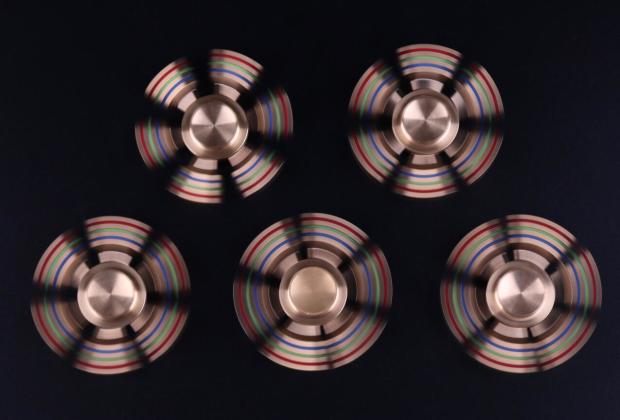 The bearing we use inside the spinner is high quality stainless steel R188 bearing, which have been proven to be the best one among all the other bearings we have tested. If you want to change to other bearings or you have broken the bearing by accident, you can take the bearing off and replace it easily.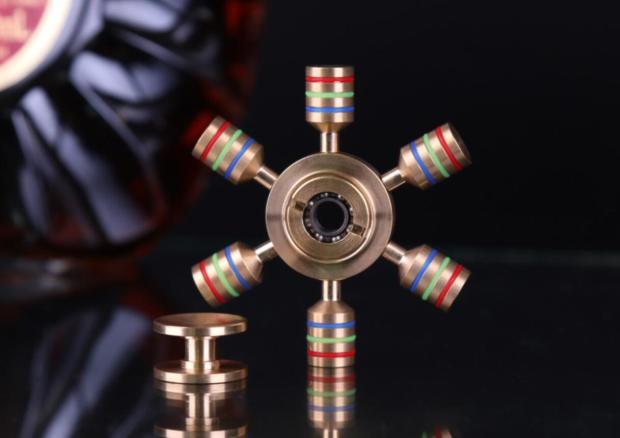 Due to the high quality parts for the iSpin Spinner, it can spin up to 3-5 minutes. 
The package for the spinner will be a metal box. It looks simple but very high quality. You can use it to storage other stuff once you got the spinner out.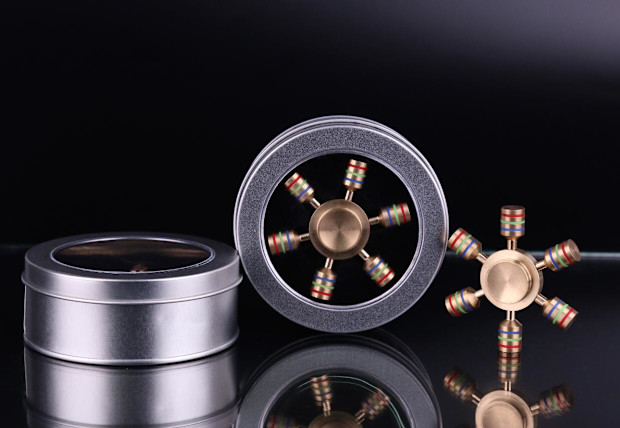 Once you got hand on the spinner, it will be super easy to learn to spin and soon you will fall in love with it. With a few days practice, you can simply play some tricks like below: 
---
We Also Recommend
---