Scrubba Wash Bag
Can wait and rather get the Scrubba Wash Bag at a group price? Click here to request for the next hunt, and get notified when it goes live!
---
The Scrubba™ Wash Bag is the world's smallest washing machine and the ultimate travel and camping essential.
Our ultra-portable washing machine makes your journey easier. This convenient, pocket-sized travel companion allows you to travel lighter and helps you save money, time and water. Weighing less than 142g (~5oz.) the Scrubba Wash Bag is a modern take on the old fashioned washboard. It is twice as effective as hand washing* and a lot more hygienic that a dirty hotel sink.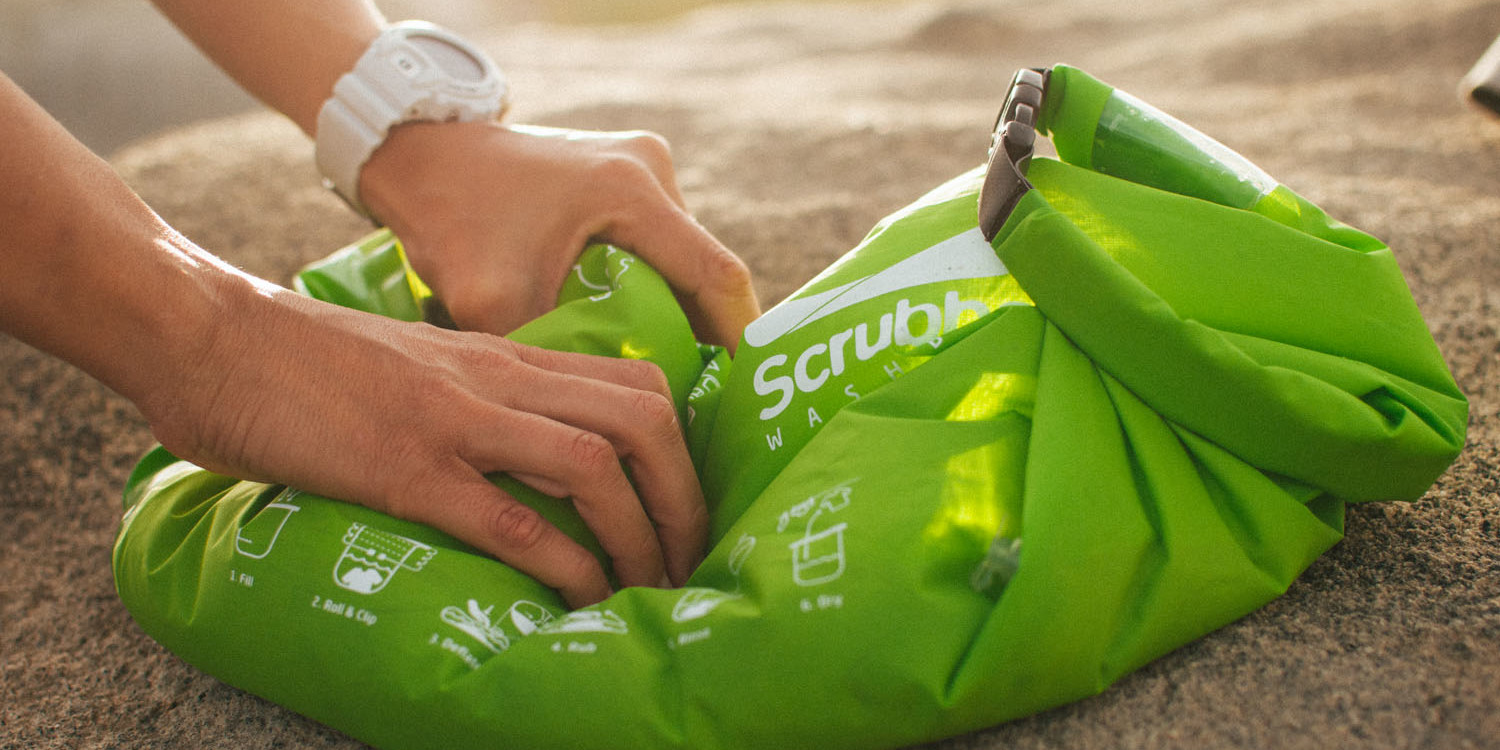 Tens of thousands of travellers, campers, backpackers, hikers and holiday makers have experienced firsthand the quality wash our internal flexible washboard delivers.
---
So How Does It Work, And What's So Special About The Scrubba?
Using Your Scrubba Wash Bag
1. Fill
Add water, cleaning liquid and clothes to the Scrubba™ 
  wash bag (20-40% volume).
2. Roll & Clip
Remove excess air from the bag
Roll down top at least 4-5 times and clip ends.
3. Deflate
Open cap and squeeze valve to expel air from the Scrubba™ 
  wash bag.
4. Rub
Press down and rub clothes against the Scrubba™ wash 
  bag's unique internal flexible washboard for 30 seconds 
  for a quick traveler wash or for 3 minutes for a machine 
  quality wash.

5. Rinse
Unclip and unroll the Scrubba™ wash bag's seal.
Remove dirty water from the Scrubba™ wash bag.
Rinse clothes with fresh water in the Scrubba™ wash bag 
  or under a running tap or shower.
6. Dry
  in the Scrubba towel.
Hang clothes to dry on the Scrubba travel clothesline.
The Scrubba™ wash bag is the easiest and most effective way to hand wash clothes when traveling, camping, trekking, hiking, on a cruise, on a business trip or even at home.
With a Scrubba Wash Bag you can:
Wash clothes wherever and whenever you want
Effectively clean your clothes with the help of hundreds of internal Scrubba™ 'nobules'
Pack fewer clothes and travel with a lighter backpack, bag or suitcase
Achieve a machine quality wash in 6 easy steps.
Alleviate the need to ineffectively wash clothes in dirty hotel sinks
Avoid excess airline baggage fees by packing fewer clothes
Save money and water when doing laundry while travelling. 
Whoever knew that washing clothes would look this good!
Product Specs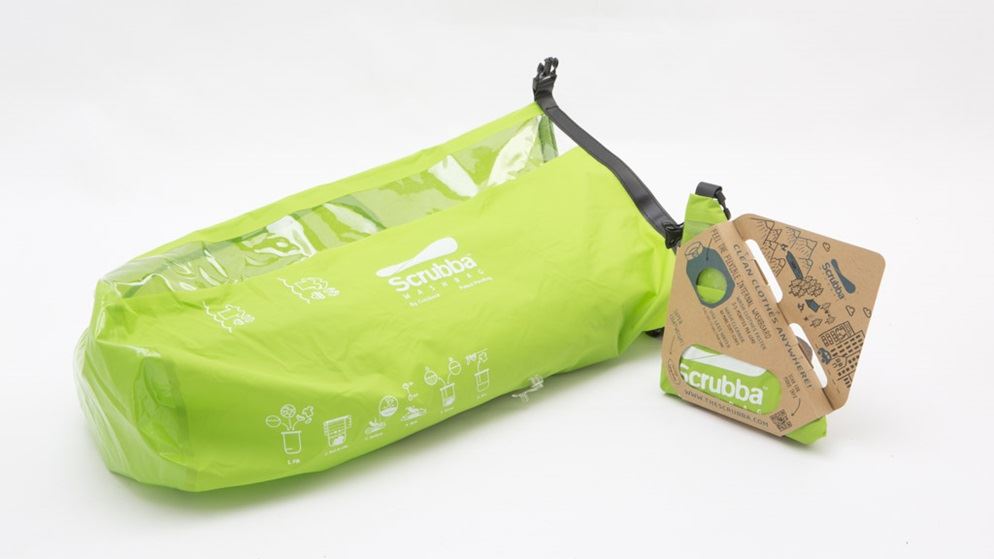 Lightest washing machine in the world weighing only 142g (~5oz.)
Pocket-size and small enough to take anywhere
User instructions printed on the outside of the bag
Transparent window to monitor washing and water levels
Grip backing on the outside to prevent sliding on surfaces while washing
Easy release air valve
Doubles as a dry-bag.
Weight:
Dimensions:
54cm x 32cm (when laid flat) - 21.3" x 12.6"
16cm x 6cm x 6cm (when rolled for storage) - 6.3" x 2.4" x 2.4"
---
---
We Also Recommend
---